Ear Muffs
Pro For Sho All Terrain Noise Reduction Earmuffs - Extra Large Size Foldable Light Weight Design- Black
Pro For Sho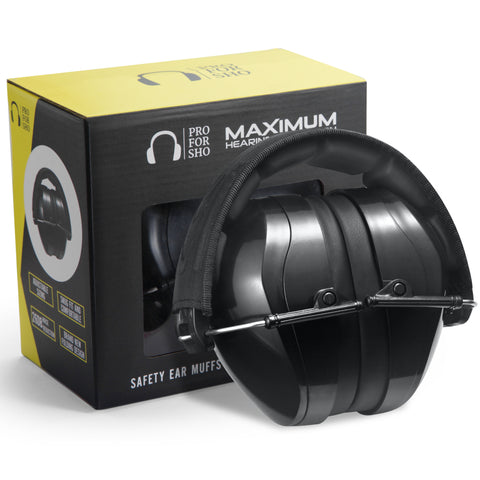 1/3 LIGHTER THAN OTHER BRANDS without compromising effectiveness
LATEST Ultrasonic Manufacturing Technology for BETTER SOUND REDUCTION. ANSI S3.19 & CE EN 352-1 Certified Hearing Protection 32DB NRR
SPECIFICALLY Designed to provide MUCH COMFORTABLE FIT for Adults and Kids - PERFECT FOR ALL DAY WEARING
Best Ear Protection Accessory for: The Shooting Range - Fireworks - Machinist Tools - Construction Work - Lawn Maintenance - Mowing - Study - Concerts - Sporting Events - Drummers - Shooters - Personal Quiet Time - NASCAR - Drag Races - Monster Truck AND MORE
THE PRO FOR SHO PROMISE - 90 DAYS NO RISK MONEY BACK GUARANTEE and LIMITED LIFETIME WARRANTY
Pro For Sho is a leading brand focused on developing quality and innovative protection products. Learned from many years of experience, we specifically developed these BRAND NEW PREMIUM SUPER LIGHT WEIGHT HEARING PROTECTION EAR MUFFS to meet the increasing demands of a much wider used product.

SO, WHAT'S NEW?

After hearing about the issues regarding discomfort caused by a lot of earmuffs out in the market, Pro For Sho purposely designed this premium Light Weight Earmuffs TO PROVIDE MUCH COMFORTABLE FIT FOR ADULTS AND KIDS which is PERFECT FOR All Day WEARING. You can put these earmuffs on with your safety glasses or shooting glasses the whole day now.

MUCH LIGHTER WITHOUT COMPROMISING EFFECTIVENESS

These earmuffs are 1/3 lighter than the competing products. Unlike others, the Advanced Ultrasonic Welding process allows the metals to bond better altogether and is able to sustain more effectiveness and deliver better protection result without causing more weight in the product itself.

ADJUSTABLE HEADBAND TO FIT DIFFERENT HEAD SIZES

We heard you, and we know how frustrating it is to feel like your head is too big for any earmuffs, so we made the headband adjustable for you to get a comfortable and customized fit according to your size.

We almost forgot to mention, that after all the enhancement and adjustments made, PRO FOR SHO IS STILL ABLE TO RETAIN AND DELIVER THE COMPACT AND FOLDABLE DESIGN FOR EASY GOOD FOLD-STORAGE AND CARRY AROUND.

YOUR SATISFACTION IS OUR PRIORITY.

Just Try It Risk Free for 90 Days or Your Money Back!
---
More from this collection